Light Head ONLY
The rotary switch on the back end of the unit controls ON/OFF and power setting over between[FULL]/[LOW]. The "Selector Ring LF" (red ring switch) on the light head provides each 6 steps power setting for FULL and LOW making 12 steps power setting in total.
The maximum power is 2400 lumen at level 6 of FULL mode. The LOW mode is about -1.5EV of the FULL mode. Each click of the "Selector Ring LF" provides about 1.0EV increments (FULL) or about 0.9EV (LOW). The rotary switch is equipped with a lock ring to prevent accidental activation of the light.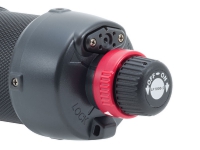 ON/OFF and two steps (FULL/LOW) power setting switch with a lock ring
Underwater coverage is super wide 100 degree thanks to the optically designed dome lens which effectively widen LED beam without sacrificing native brightness from LED modules. Using optical dome lens provides ideal light distribution for video shooters with its seamless gradation and less spotting on the center.

Ideal lighting device for aiming or macro imaging thanks to carefully selected white LED chip producing quality light with enhanced color reproducibility and color temperature 6500K.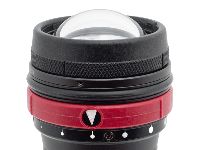 Dome Lens and 6 steps Selector Ring LF
Operated by easily obtainable 6x AA batteries. Using compatible rechargeable batteries like "eneloop" or "eneloop pro" enables you to share same battery charger with an INON strobe to enhance mobility and minimize your luggage space. The rated practical burn time (*) with "eneloop pro" (BK-3HCD) rechargeable batteries, is approx. 45 minutes at level 6 of FULL mode (max. power setting) or approx. 3,185 minutes (53 hrs 05 min) at level 1 of LOW mode (minimum power setting).
(*) Average time to get half brightness comparing to initial performance when using "eneloop pro" batteries (Model code: BK-3HCD).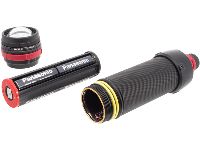 6xAA battery cartridge
"Dome Red Filter LF-W" is packaged to change color tone not to stimulate shy marine lives.